For a comparably-priced eScooter, Check out NAVEE Electric Scooters!





The Ninebot KickScooter E45 by Segway is designed to bridge the gaps along your journey, whether it's the store two blocks away or the bus stop down the street. Built with high-strength, and lightweight aerospace-graded aluminum alloy with long battery life, we are here to take you further and faster.




Cell phone and Segway-Ninebot app required for initial setup.
REV Rides is no longer offering the Segway E45. Please see the NAVEE V40 for a comparable scooter





| Specs | Ninebot E45 |
| --- | --- |
| Battery Capacity | 368Wh |
| Motor | 300W |
| Range | Up to 28 Miles |
| Top Speed | Up to 18.6 MPH |
| Load Capacity | 220lbs |
| Charge Time | 7.5 Hours |
| Max Slope | Approx. 20% |
Share
View full details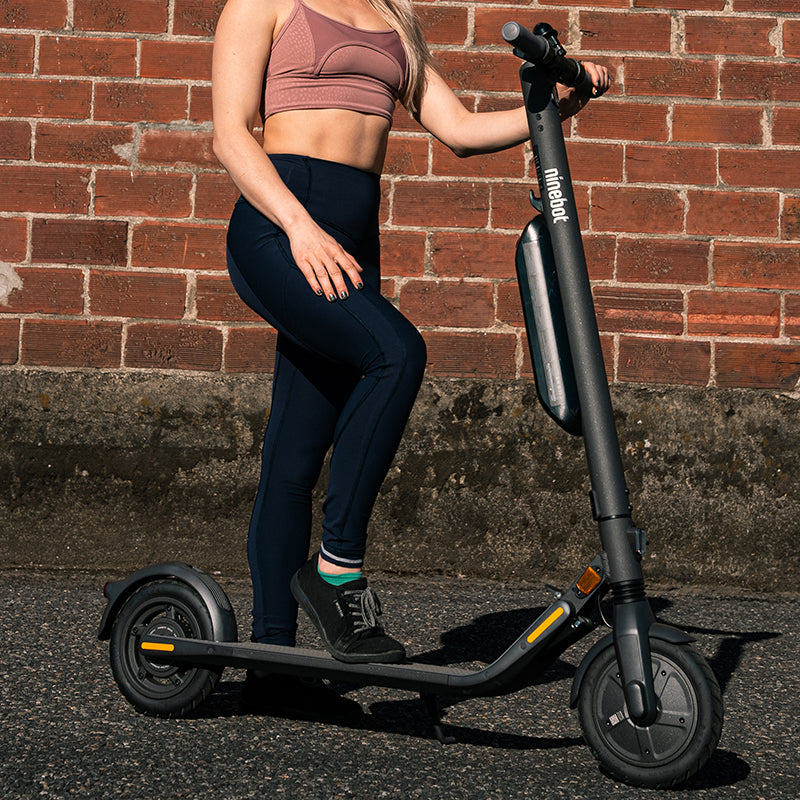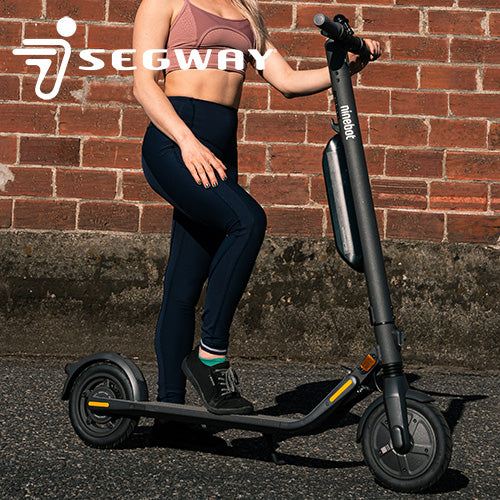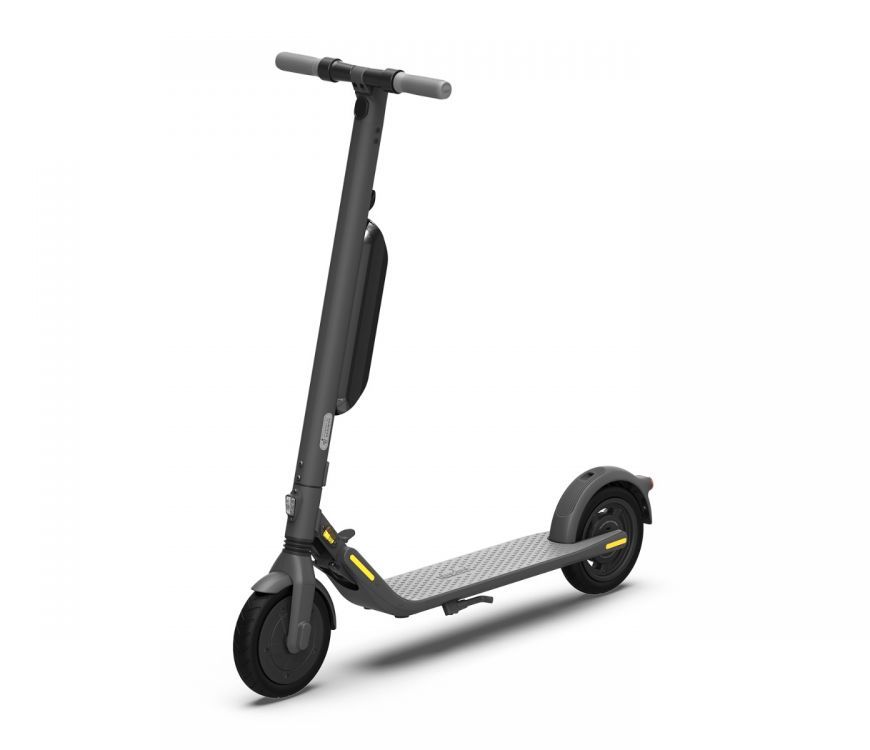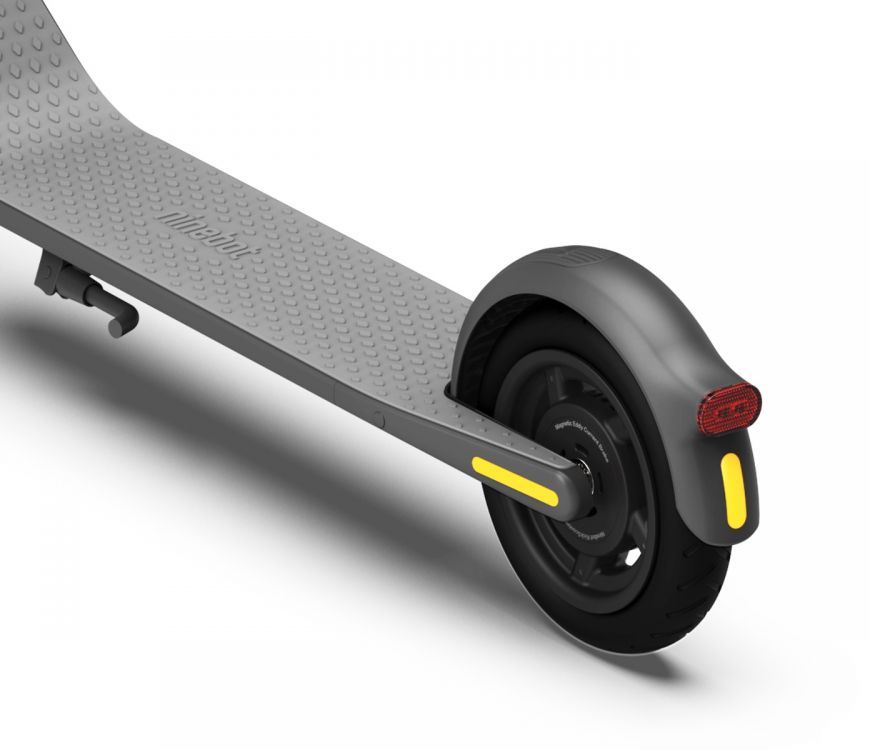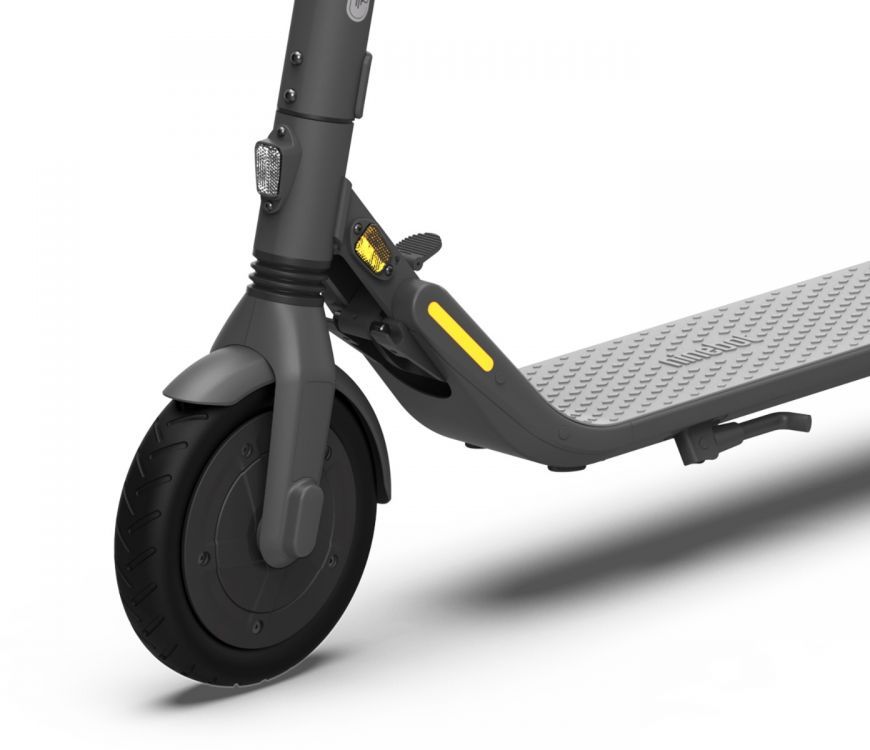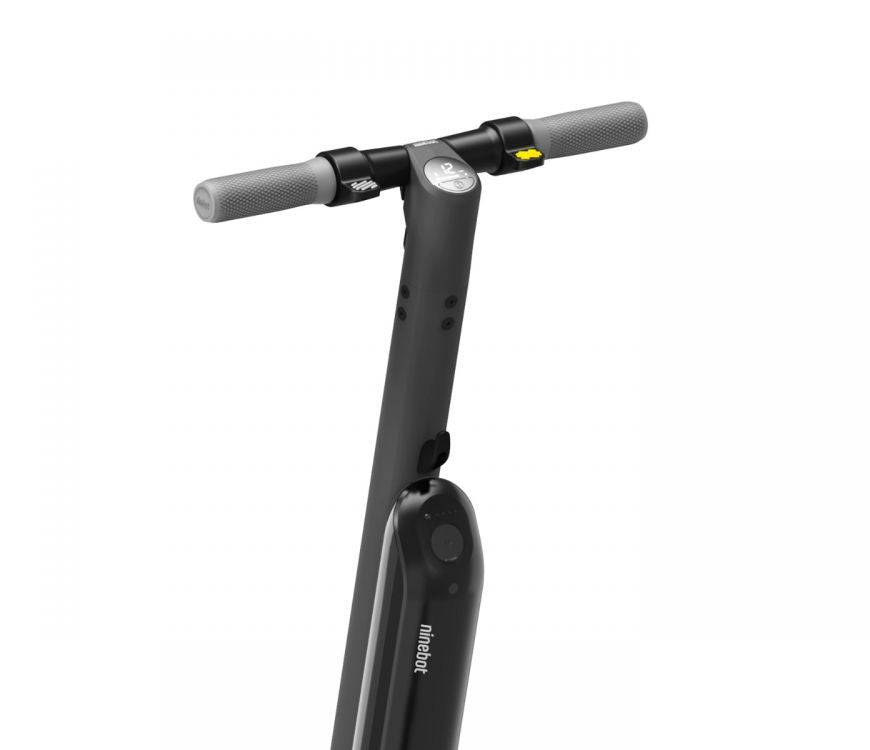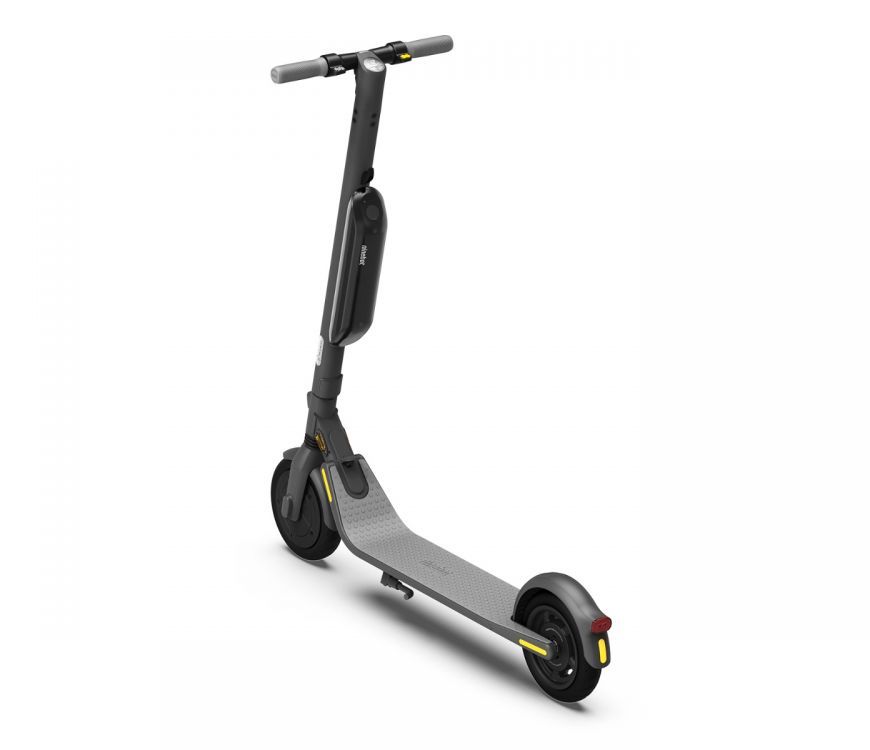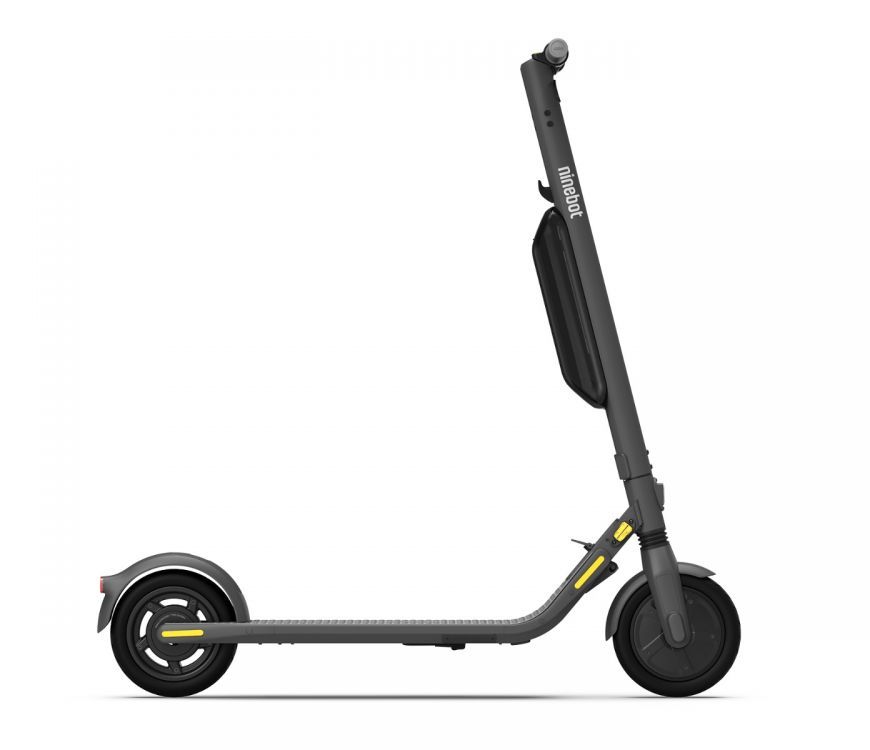 Ninebot KickScooter E45
Exceptional Design, Extraordinary Journeys.


The Segway Ninebot KickScooter E45 is a recreational scooter that inherits the classic design of the Ninebot eKickScooter series and features integrated folding technology and a metal frame.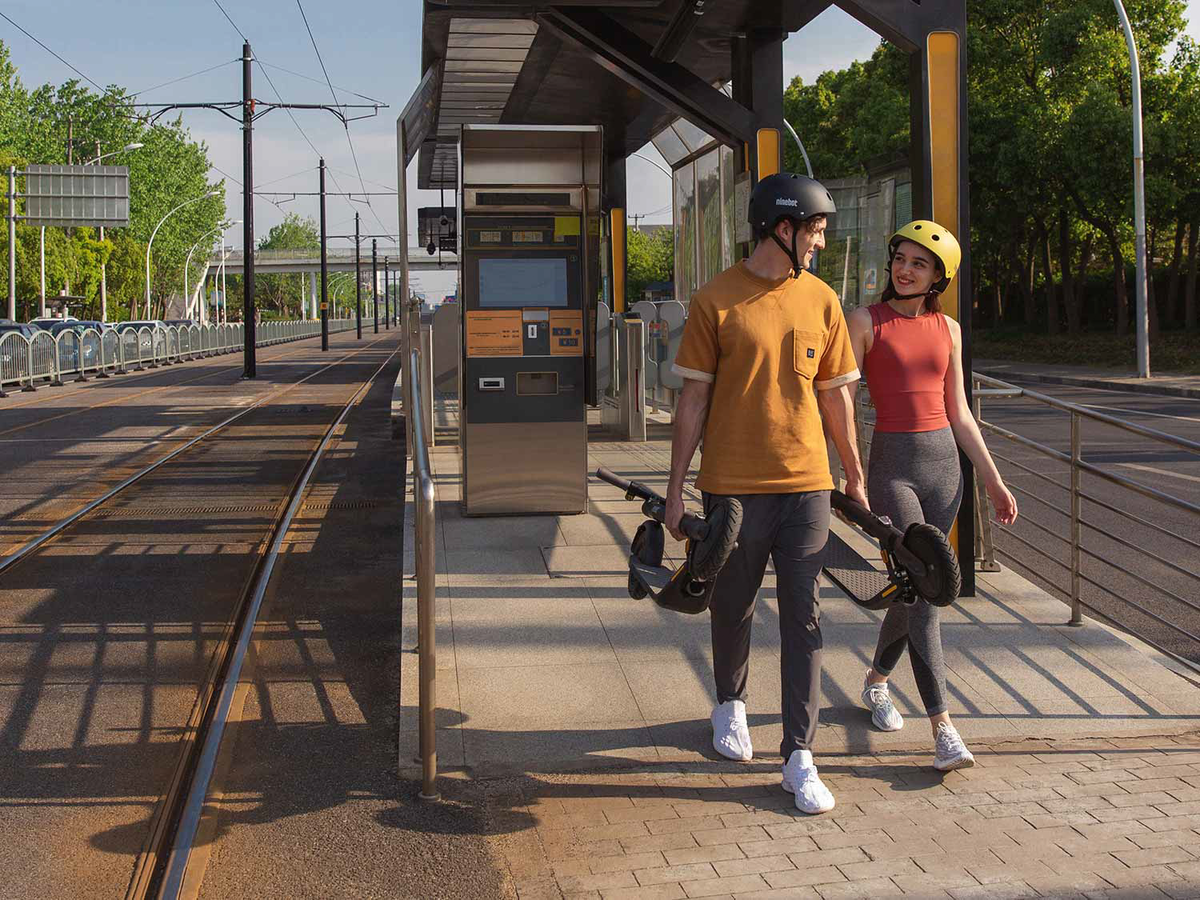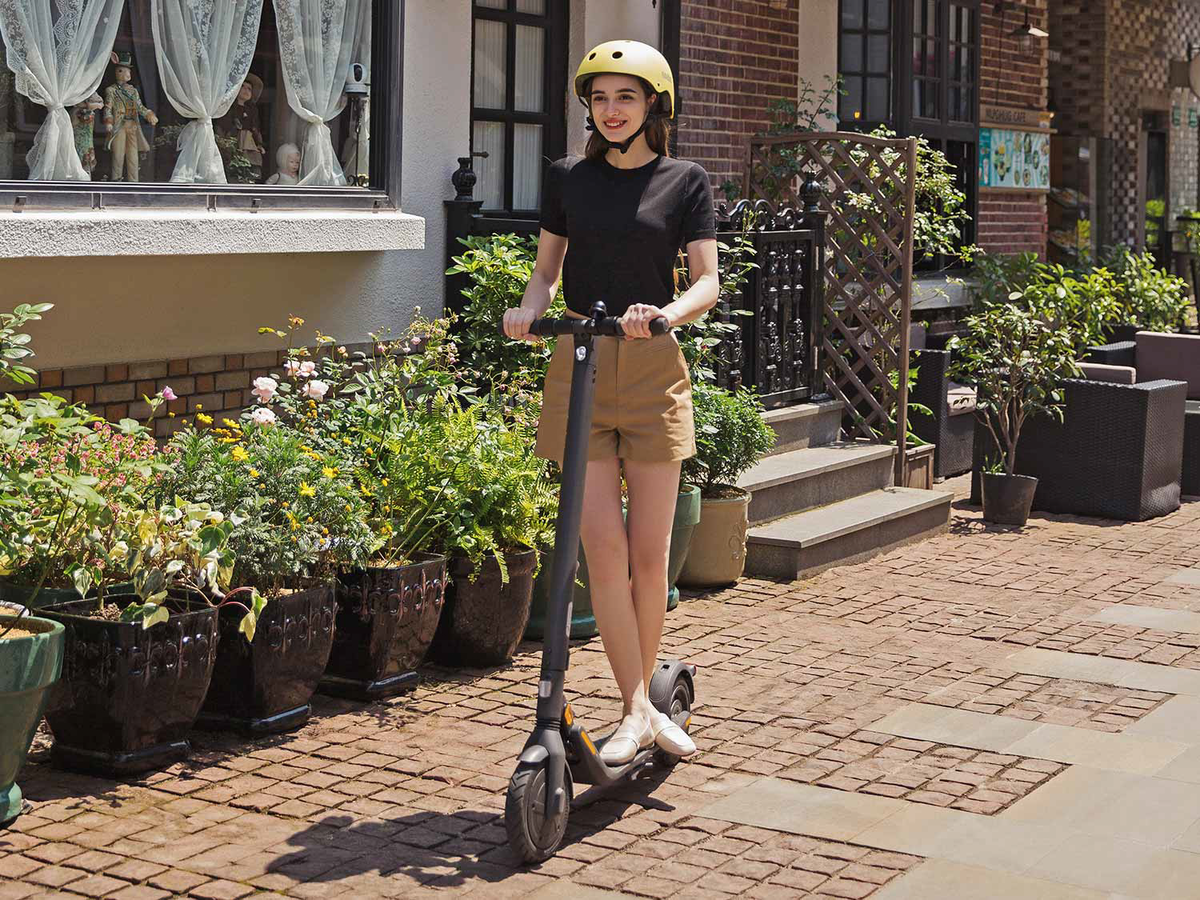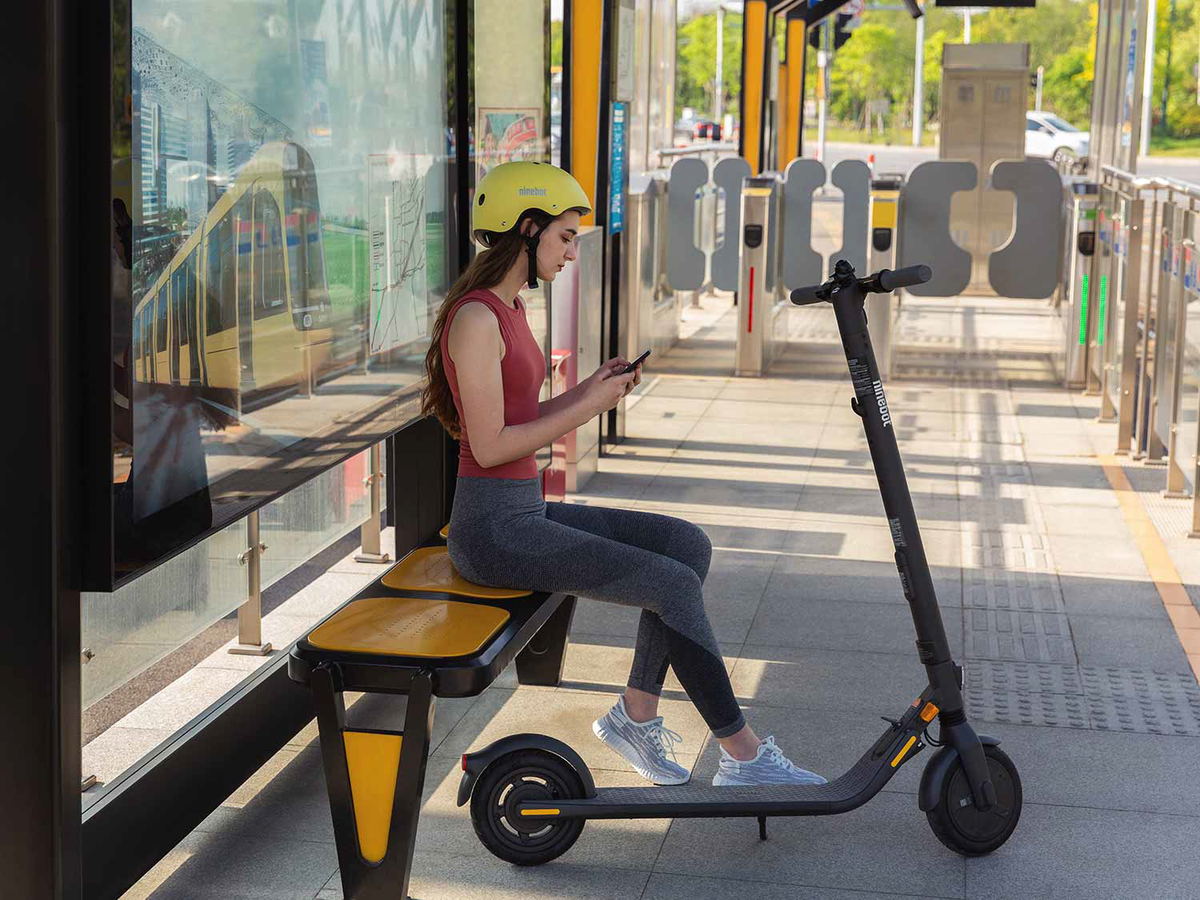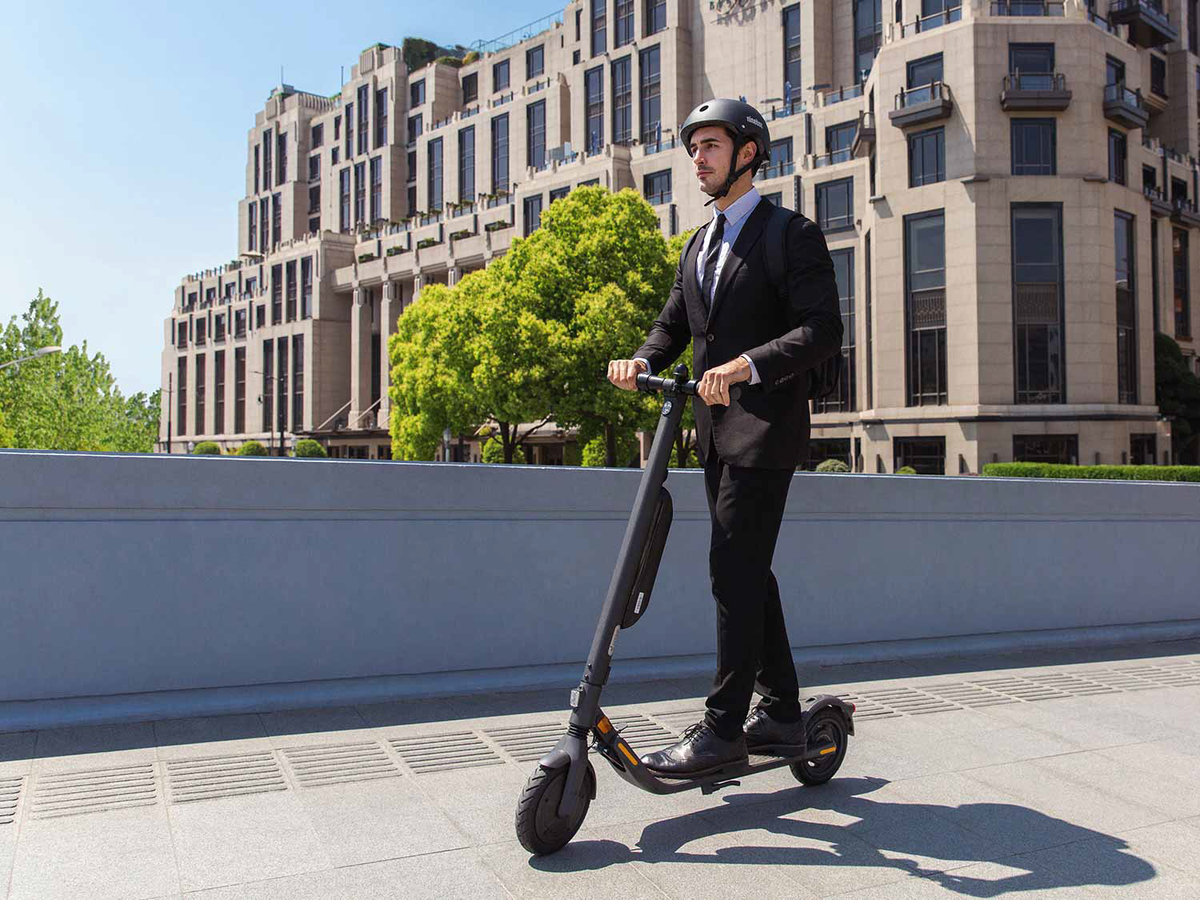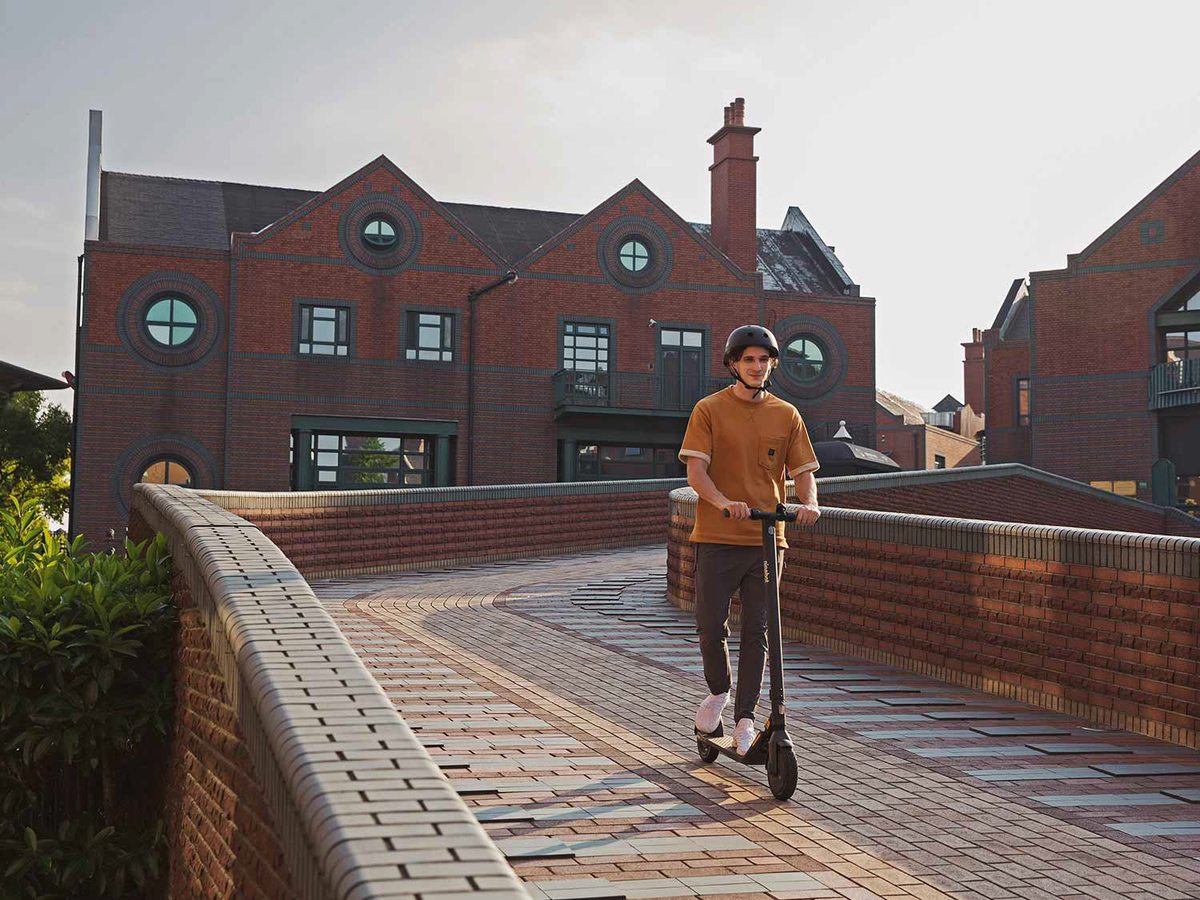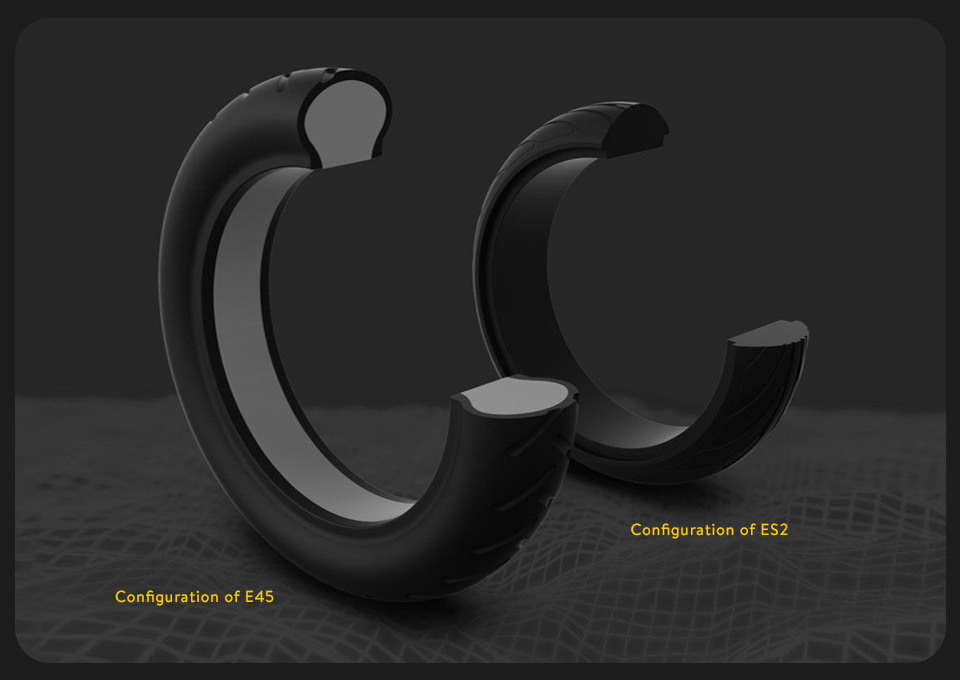 Brand New 9 Inch High Elastic Non Pneumatic Tires
Never have to worry about a flat tire again with excellent shock absorption!


With three years in the making, the new inner support technology has higher resilience than ordinary solid tires and is maintenance-free with high shock absorption. The Segway Ninebot KickScooter's new 9″ front and rear tires deliver excellent shock absorption, and you never have to worry about a flat tire again!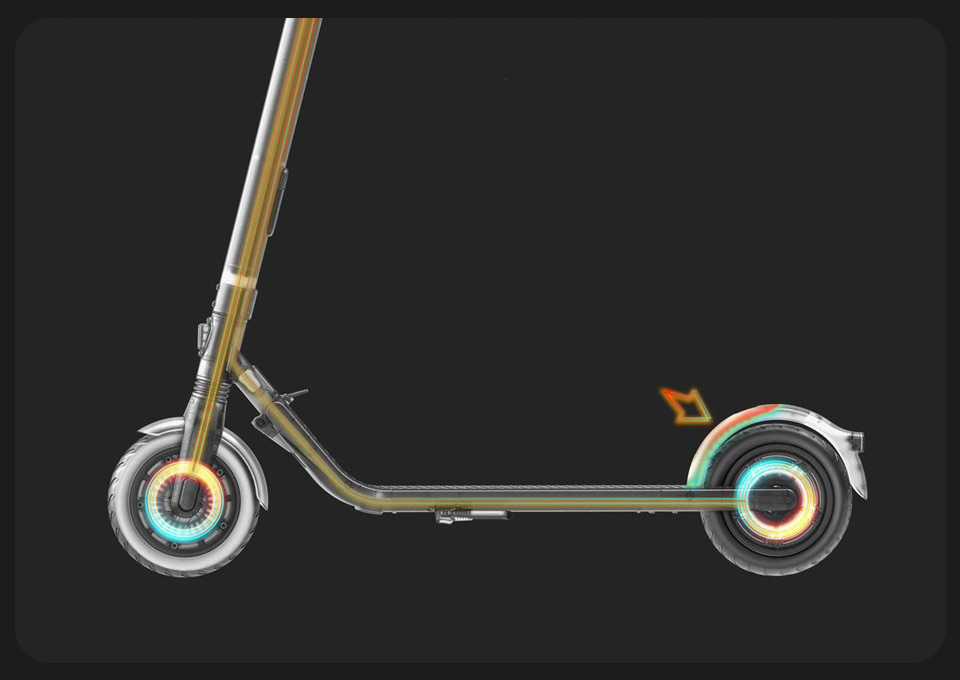 New Triple Brake System
3'3" braking distance, safeguarding you all the time.


In addition to the conventional double brakes, this electric moped introduces a new magnetic brake technology, it uses electromagnetic force to form a strong braking force and realizes a shorter braking distance. You can use the Segway-Ninebot app to adjust the different braking levels, from a shorter braking time to a more stable brake.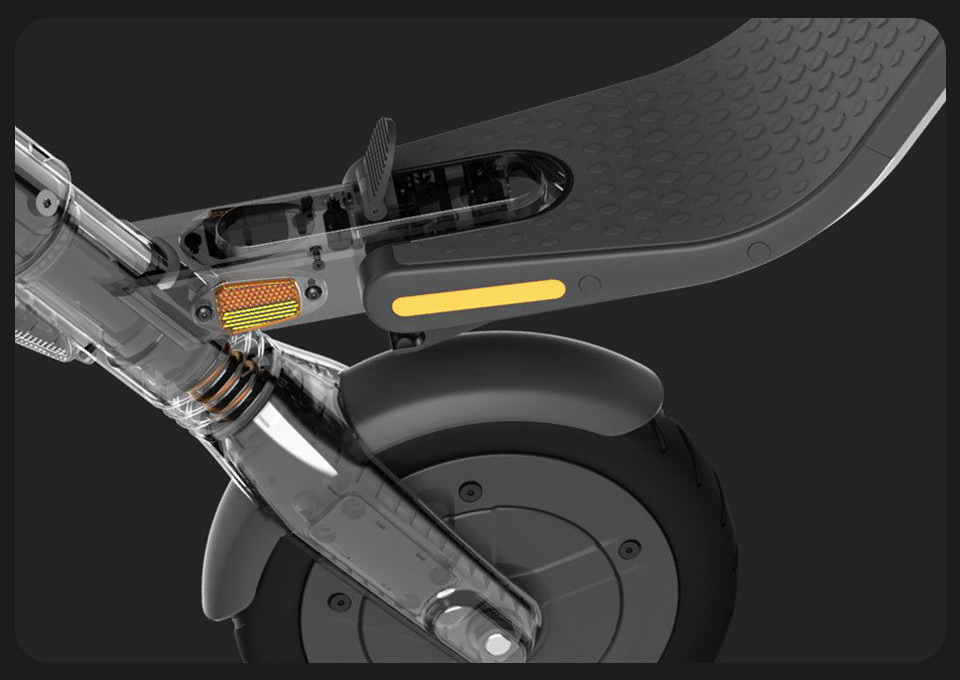 Innovative Thread Locking Technology
6213 miles of test rides, your safety is of the utmost importance.


The integral parts of the car body adopt the innovative thread locking technology used in high-speed bullet trains and are strictly tested. After undergoing 6213 miles of testing, the frame of the E45 kick scooter is still in tip top shape, showing off its amazing build quality.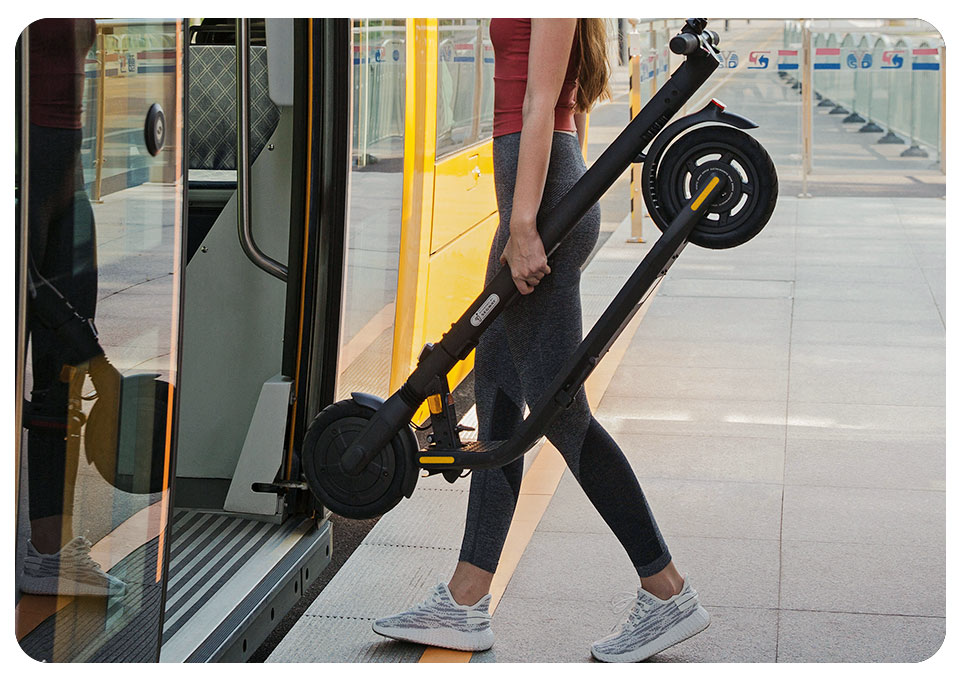 Easy Carry Folding Mechanism
With its innovative folding system, the Segway Ninebot KickScooter E45 can be easily carried and towed around, and its folding mechanism ensures it fits perfectly in the back of car trunks.

Weighing approximately 30 lbs., this electric kick scooter can easily be lifted, towed, and taken into the elevator.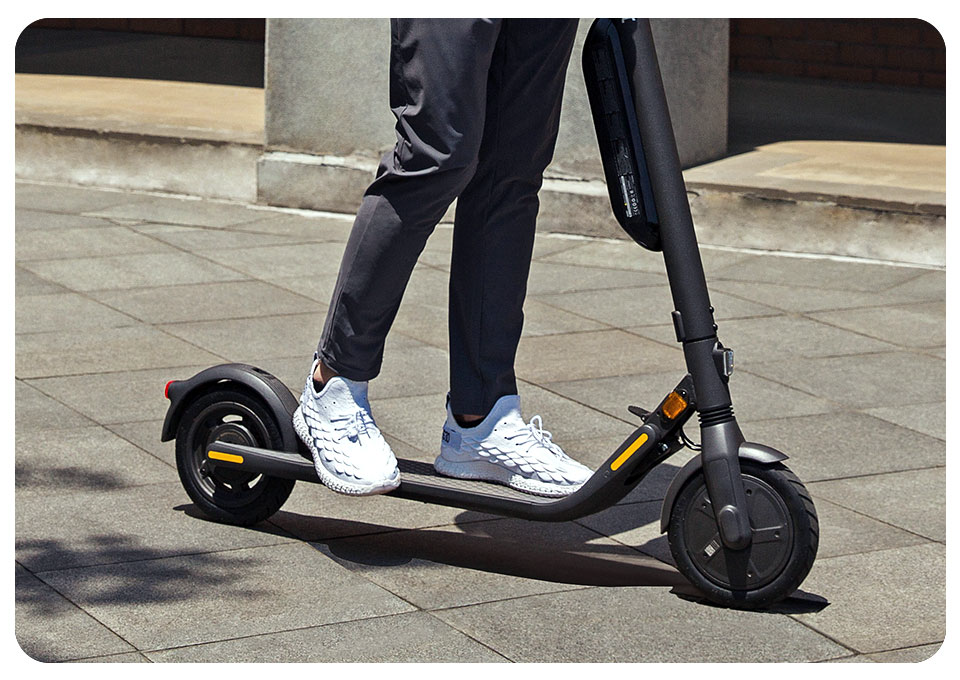 Aerospace-Grade Aluminum Alloy Material
The aerospace-grade aluminum alloy body material weighs only one-third of steel, and its strength per unit density is 1.3 times that of steel.

It has better thermal conductivity and corrosion resistance, making the Ninebot KickScooter E45 lightweight yet durable, which is important when searching for the best electric scooter.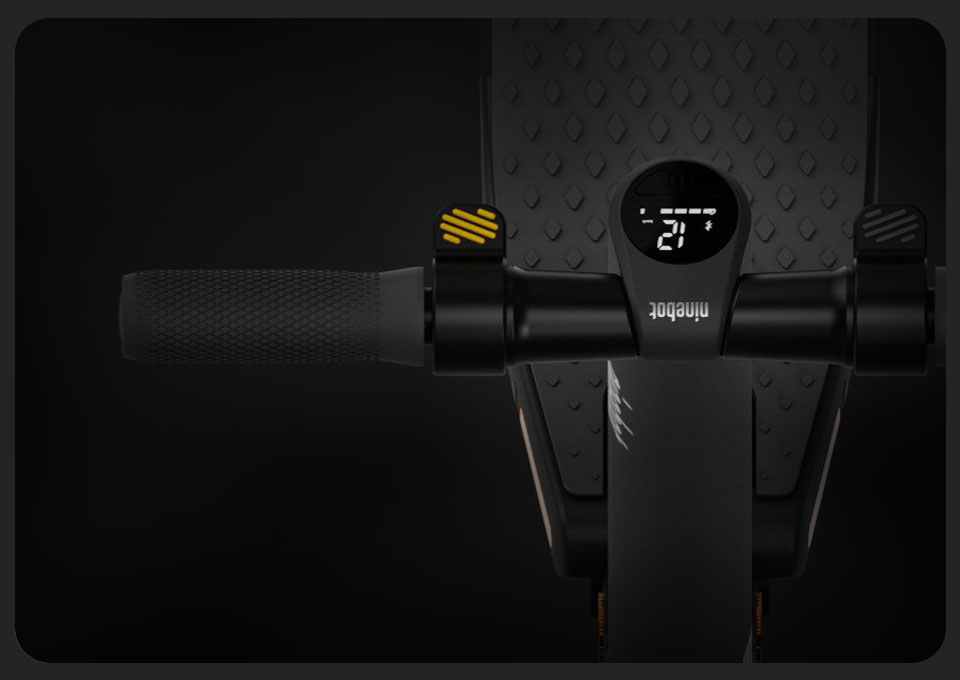 Three Riding Modes
Energy Saving Mode
9.3 mph, 15.5 miles range


Normal Mode
15.5 mph, 15.5 miles range


Sports Mode
Faster acceleration, speed up 10% faster than the previous generation. With an external battery, the max speed can be increased to 18.6 mph, with 20% max climb slopes!


Note: the comparison model is the Ninebot KickScooter ES4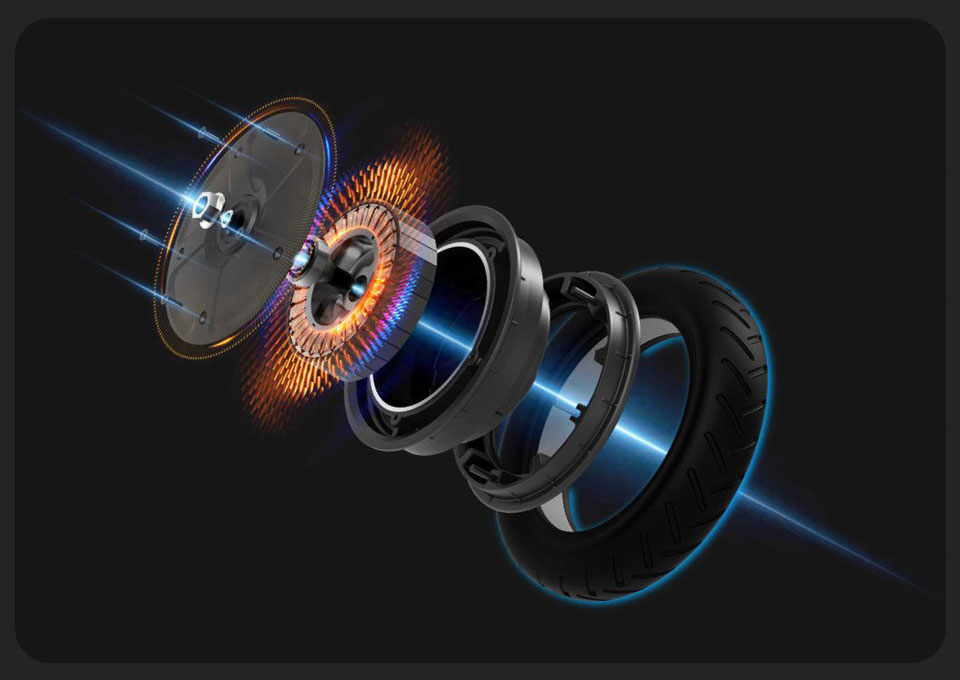 Custom 700W Power Motor
Experience full force ahead.


The Ninebot's customized high-performance motor has a speed of 18.6 mph, exceeding most electric bikes on the market. Its motor power can also tackle 20% climb slopes, taking you to wherever you want to go.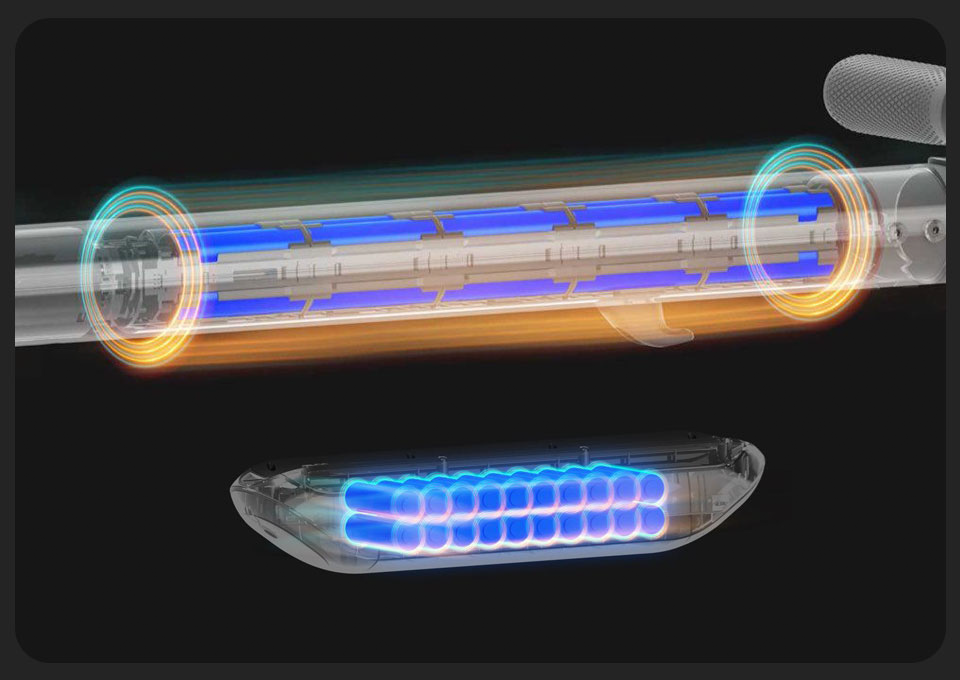 Premium 18650 Power Battery
Supports extended battery, unlocks
extended range.


The Segway Ninebot's customized battery pack adopts a complete encapsulation process, with stronger anti-seismic and flame retardant properties, has IPX4 waterproof capabilities, a safer battery and increased reliability.

The E45 also supports an external battery. After adding it, the Ninebot KickScooter by Segway external battery range can be extended to 28 miles, with a speed of 18.6 mph and a 20% max slope.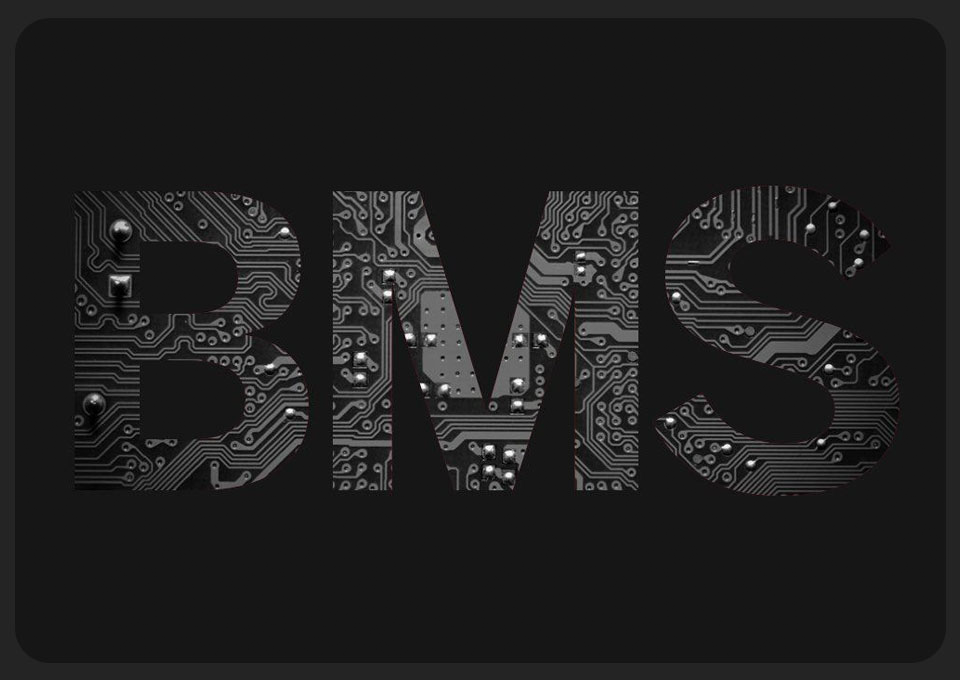 Smart Battery Management System
With over 300 Million Lithium-ion Battery management experience. Every Ninebot electric kick scooter has Smart-BMS technology to extend the life of our vehicles. We go above and beyond to ensure a fast charging battery, battery safety and extended battery life.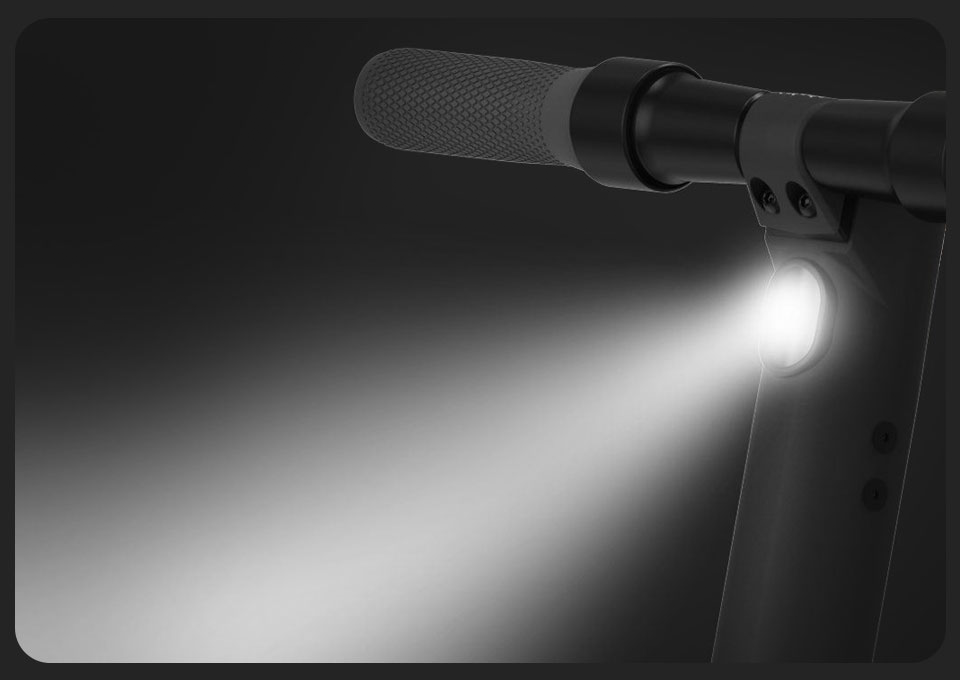 2.5W Head Lamp, 44 ft Illumination Range
The Segway Ninebot KickScooter E45 features a 2.5W head lamp, providing a visibility range of up to 44 ft. Discover more and ride safely even in dark lit environments.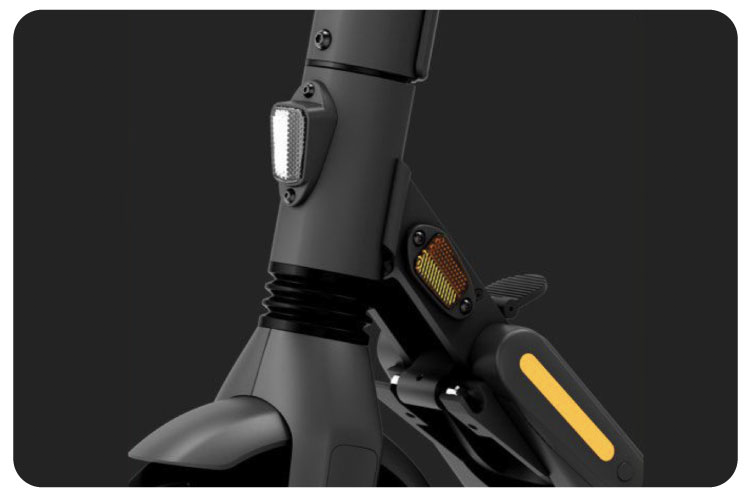 Front white and yellow safety reflector for Improved visibility.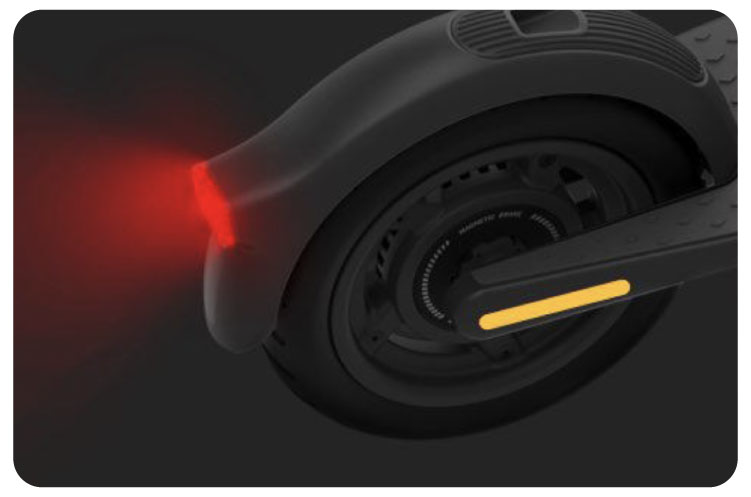 Bright Tail Light
For additional safety a bright tail light has been added to increase visibility in poorly lit environments.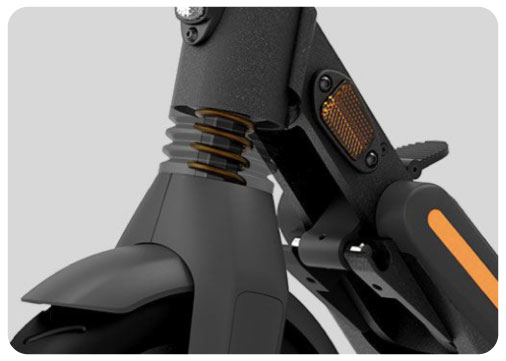 Front wheel shock absorption for reduced turbulence and enhanced riding stability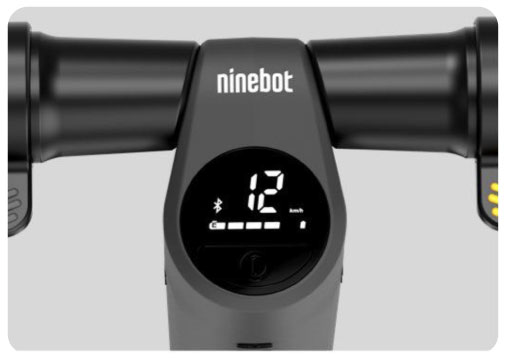 Intuitive digital dashboard, driving information is clear at-a-glance with multiple riding modes.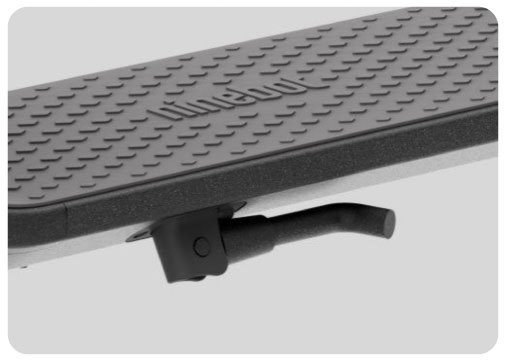 Ninebot Kickscooter E45
Unfold: Length x width x height
45.7 × 16.5 × 46.1 in (116 × 42 × 117 cm)
Fold: Length x width x height
46.9 × 16.5 × 14.2 in (119 × 42 × 36 cm)
Net Weight
Approx. 36.2 lbs
Payload
55–220 lbs (25–100 kg)
Tires
Dual Density Tires. Material: synthetic rubber. Size: 9 inches
Suspension
None
Recommended Age
14+ years
Required Height
3'11"-6'6" (120-200 cm)
Max. Speed
18.6mph (*Top speed may be impacted by battery level, environmental temperature and available traction.)
Typical Range
Approx. 28 Miles
Max. Slope
Approx. 20%
Traversable Terrian
asphalt/flat pavement: obstacles < 0.4 in (1 cm);
gaps < 1.2 in (3 cm)
Operating Temperature
14-104ºF (-10-40ºC)
Storage Temperature
-4-122ºF (-20-50ºC)
IP Rating
IPX4
Duration of Charging
~ 7.5 h
Nominal Voltage
36 VDC
Max. Charging Voltage
42 VDC
Charging Temperature
32-104ºF (0-40ºC)
Nominal Capacity
368 Wh
Battery Management System
Over-heating, short circuit, over-current and over-charge protection
Number of Batteries
2
Nominal Motor Power
300 W
Output Power
71 W
Input Voltage
100-240V ~ 50/60Hz
Output Voltage
42 VDC
Output Current
1.7 A
Brake Light
LED rear light
Awesome Beginner Scooter!
Bought this for my wife to keep up with me on my unicycle!
Thanks again RevRides for taking care of me once again!
Commercial Quality & Speedy
The Ninebot E45 is well built and looks great! Its 700w motor has the oomph to get up good hills and speeds up smoothly. While riding at full speed (faster than advertised speed), it definitely can last a good day since I use it not for commuting but just to scoot around, really. The E45 is quite potent and folds up nicely. Even looks good in the back of my car's trunk! It is an intermediate scooter with fantastic safety features like its really interesting magnetic brake. Its puncture-free tires have good traction. I am quite happy with my purchase!
It just goes and goes …>>>
The good :
Responsive and solid. My E45 gets up to 19.3 mph on a flat surface which is good! I do like locking it up electronically through the Segway app. It has taken me here and there without fuss. It surely is an advanced intermediate scooter. Comfortable as well!
The not so good -
Needs a handle! Right now, I carry it in a very awkward way. I have to hold and carry the scooter near the folding neck since the E45 comes with the external battery. I'm not sure what to do about it for now. It's not a total deal breaker but it is a slight annoyance.
Smooth
Came exactly when it was expected and no issues with the product 👍