Regular price
$0.00
Sale price
$85.00
Unit price
per
Sale
Sold out
More Ways To Pay
Made by Italian race tire manufacturer PMT, the E-FIRE 10" x 3" Urban tire is specially designed for E-Scooter riders that want to go fast and grip. In the Motorcycle racing and R/C industry, PMT Tires are considered the highest quality tires - and the E-FIRE is no exception. With PMT, get better cornering, higher top speeds, and better off the line grip.

Sold as single tire. To purchase a set, please adjust your quantity to 2.
| | |
| --- | --- |
| Size | 10" x 3" (Rim Diameter: 6.0") |
| Rim Width | 35-45 mm |
| Outer Diameter | 250 mm |
| Tire Width | 76 mm |
| Pressure | Inflate to 26-43 PSI |
| Tread Pattern | Urban, Road Use |
FITMENT:
ZERO 10X
VSETT 10+
Varla Eagle
Inokim OXO
Share
View full details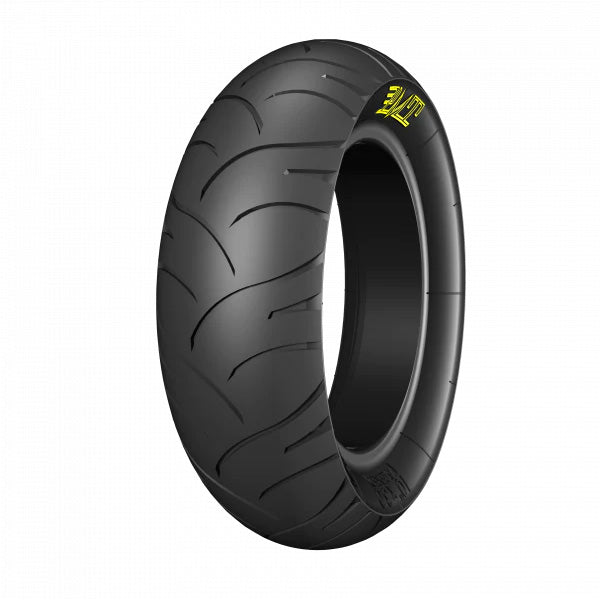 Financing
RIDE NOW, PAY LATER
Choose your financing option:
Shop your favorite stores online or in-store and pay later with Affirm. You'll see us at checkout, or you can request a virtual card in the Affirm app.
Simply select Affrim at checkout to get started.
Click here to learn more about Affirm
SKIP THE LINE
Checkout instantly with Express Checkout:
Pre-fill shipping and payment information using your Apple Pay, Google Pay, PayPal, Shop Pay, or Meta Pay account. Simply select your preferred payment provider at checkout to get started
Wow. Just...wow.
I rode a Vsett 10+ for 3000 miles before I put these on. Knock on wood, no flats yet, and the grip is just insane. Wet or dry, these tires stick. I feel like I'm riding a whole new scooter. I have tried the road tires, the hybrids, and the off road tires. These, so far, are by far the superior choice without question.
Grippy
Upgraded my tires on my Roadrunner RS5+ 2.0. They're a big smaller in width but I like the roundness of the pmt tires. It offers nimbleness and grips onto the pavement.
Great experience.
Great customer service, And shipping was quick,, Very pleased I would definitely recommend them and I will buy again,thanks
Soft, smooth, and quiet with legendary handling.
I have a stock vsett10+ with 2000 miles on OEM tires. I installed the efires last night, took them for a long test drive and then scooted into work. So this is a review after 25 miles on them. First let me say the install is easy. 1 hour each your first time. Dish soap or a lube is mandatory when fitting the tire over the rim. The RevRides install video for a tire change is a must watch to demystify the process.
They are insanely soft on the road, No burnouts or skipping when you launch. I actually increased p12 to 4 and it feels just right. On the OEM tires I tried many times but there was just no way to ever tame level 4, on these I might get cute and try 5. The cornering is in an entirely different league, it lets you lean into it and holds you ever so softly. The scooter also feels much faster overall. I'm unsure what occurring but it feels like you're putting more power on the ground. If you're driving tight in and outs like in a city/downtown areas these are a no-brainer, you will have a ton of control for quick decision making. If you are full throttle like me you will love the quiet, buttery smooth, ride. It really does feel like an entirely different scooter. Italians, I tell ya, they really know rubber and pasta. Two of my favorite things.
Easy to order and Got'em quick
I got them quickly. I plan on ordering more things from RevRides.