Regular price
$0.00
Sale price
$149.99
Unit price
per
Sale
Sold out
More Ways To Pay
Spring is here, and riding season is about to begin!  Now is the perfect time to replace your old, worn, or broken VSETT display with the all new 2023 VSETT LCD display and throttle control.  Replace your original VSETT display with this colorful, bright, and easy to read display for your VSETT electric scooter, while also enhancing the feel and control over the previous generation of VSETT throttles.  

This VSETT LCD display and throttle upgrade is compatible with the following VSETT models:
VSETT 8 & VSETT 8+

VSETT 9R & VSETT 9+

VSETT 10+

VSETT 11+

ZERO 10X and 11X Electric Scooters (unofficial fitment)

Be sure to select your model before adding to cart!
The 2023 VSETT Display Upgrade Kit Includes:
1 Updated VSETT Display
1 Throttle control and cable
1 Mountain bracket and screws
3 VSETT NFC Key Cards
REV Rides is a top rated, US authorized dealer of VSETT electric scooters.  We aim to offer the best price, best customer service, and best warranty in the electric scooter business! 
Fitment

VSETT 10+
VSETT 8
VSETT 8+
VSETT 9+
Share
View full details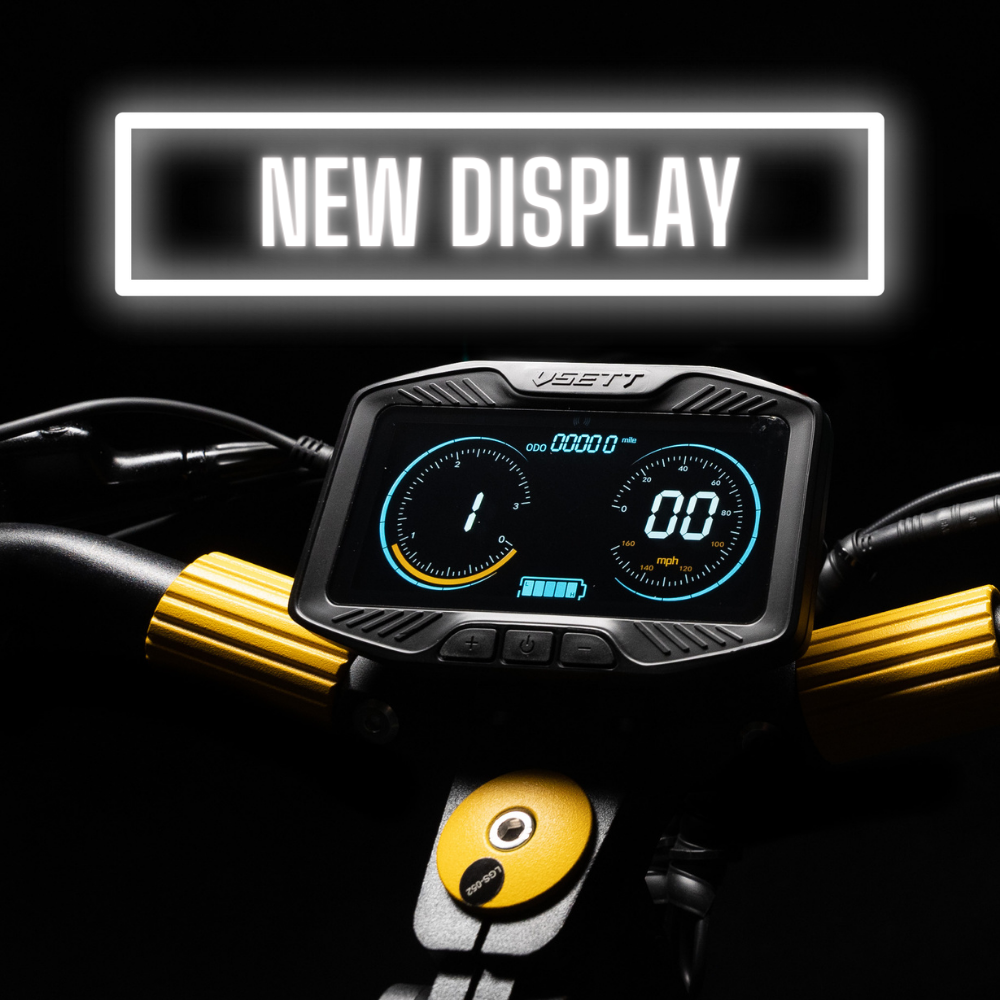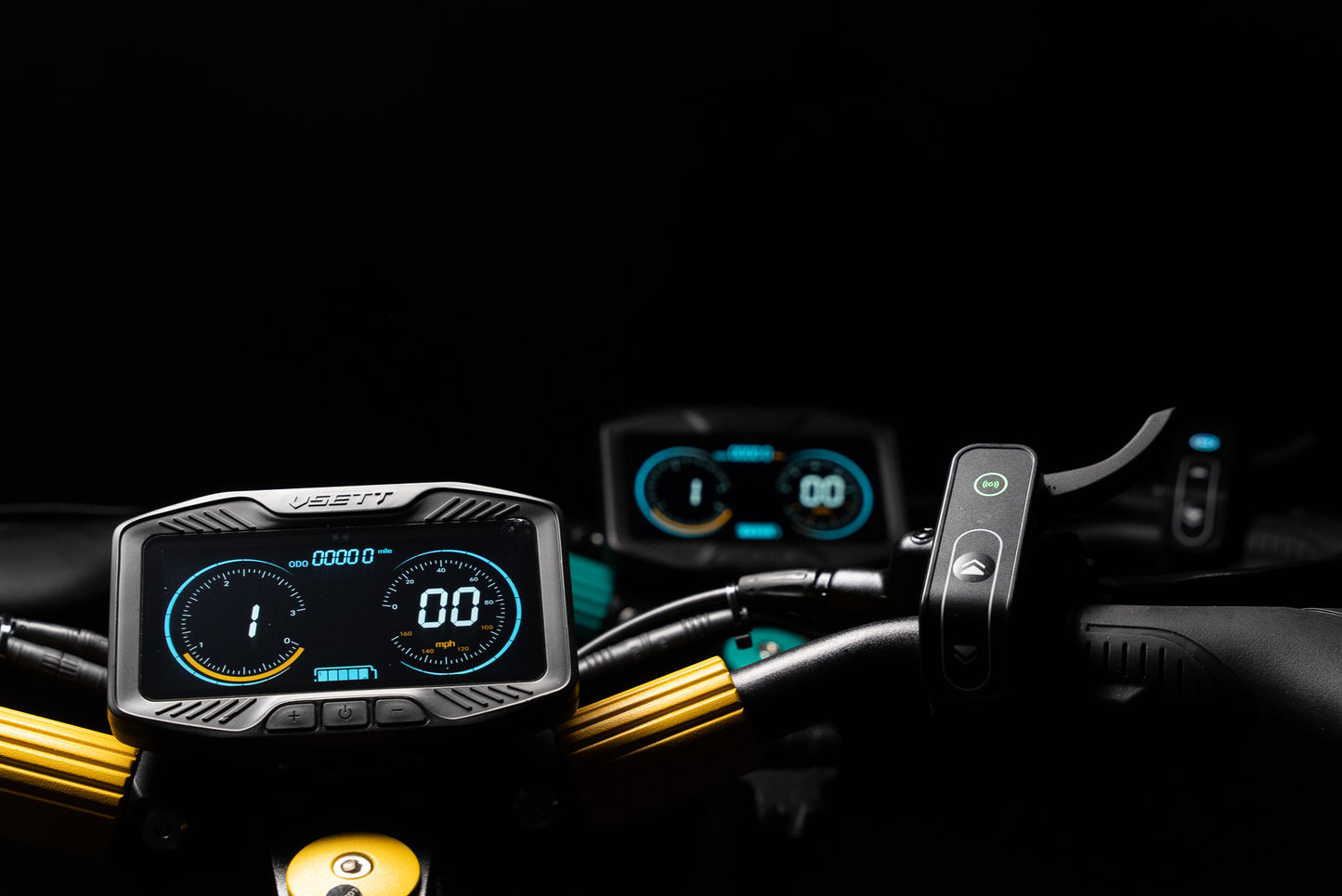 Financing
RIDE NOW, PAY LATER
Choose your financing option:
Shop your favorite stores online or in-store and pay later with Affirm. You'll see us at checkout, or you can request a virtual card in the Affirm app.
Simply select Affrim at checkout to get started.
Click here to learn more about Affirm
SKIP THE LINE
Checkout instantly with Express Checkout:
Pre-fill shipping and payment information using your Apple Pay, Google Pay, PayPal, Shop Pay, or Meta Pay account. Simply select your preferred payment provider at checkout to get started
Waited for upgraded VSETT 8 Display to be in stock, they Send incorrect part!
Website shows Item in stock. Ordered the upgraded LCD for VSETT 8, but RevRides sends out the original display! After contacting RevRides to process the return and full refund if they did not have the item in stock, they emailed the return label and said that they were out of stock and it would be another 4-5 weeks before the item was in stock. Not interested in waiting 4-5 weeks! Still waiting for my return!!
Hey Dierdre, it looks like there may have been some confusion on our end. We have processed your replacement order, you should see a confirmation email coming in in a separate email.
Vsett 10+ LCD Display
Well worth the money! Go get one, highly recommended!
Larger version of what you already have…
The sun glare is still and issue while riding. I cannot see the display if the sun is shining on screen. Not what I expected when I read other reviews… oh and it does not improve the performance of the scooter just so you know.. I hope this helps.
Hey Bheav, it sounds like you might need some assistance with adjusting the setting on the LCD. Please follow up with us via email (Service@REVRides.com) so we can further assist you!
Nice, but could use some improvements
Looks amazing. Love the big guages. Looks good in daytime rides. However being such a large display, I wish it displayed more on the screen at once. Like mileage and voltage should be able to be seen at a glance and not have to cycle through different options to get to them. They should be utilizing the most space they can. The display is huge compared to the old one. Gets annoying cycling between the options. Wouldn't have been hard to add the voltage next to or on or around the battery level. With the amount of room on the display they could have literally fit all those options without having to cycle through them. Obviously that would be cluttered and ugly but im sure there was a way to utilize the display size better. Also had a small glitch a few days after installation. Around the speedometer it was like the pixels had died from an impact perfectly around the speedometer circle. But after I powered it off and back on they seem to have slowly came back. Being it's a black display the pixels all turned white in that area that seemed to have died and come back. Hopefully it doesn't completely die on me so soon as its only been a week and a half. I took photos when it happened and of them slowly coming back just in case. And one small annoyance the + and - buttons are on opposite sides of eachother. Normally you would have - on the left side and + on the right. But on here it's the other way around. Just something minor I noticed, could be a U.S thing I guess. Also the rgb light in the circle on the trigger does absolutely nothing. Not sure what that's for. Kinda looks like the nfc icon so initially that's what I thought it was for but no, Just there for aesthetics it seems.
Very suave
The LCD display and throttle are quality and a good upgrade for the cost, you can reprogram your old keys as well and get extra keys out of the deal, the installation was easy and doesn't really conflict with anything I had mounted to the handlebar, my one complaint is that with how sensitive the new throttle is. I find that as I accelerate I end up pulling on the throttle a little more by mistake and when cruising I find it hard to stay at a specific speed.