Regular price
$0.00
Sale price
$39.99
Unit price
per
Sale
Sold out
More Ways To Pay
Please see fitment info below before purchasing.
Eliminate flat tires by replacing your stock pneumatic tire with a Solid Honey Comb tire. These tire are a good option to increase reliability, but riders will see a decrease in traction and comfort. These tires are not recommended for aggressive riding.
Installation video: https://youtu.be/Np1NL2o2qSk (opens in a new window)

FITMENT
8.5 X 2.5:
VSETT 9 / VSETT 9+
Share
View full details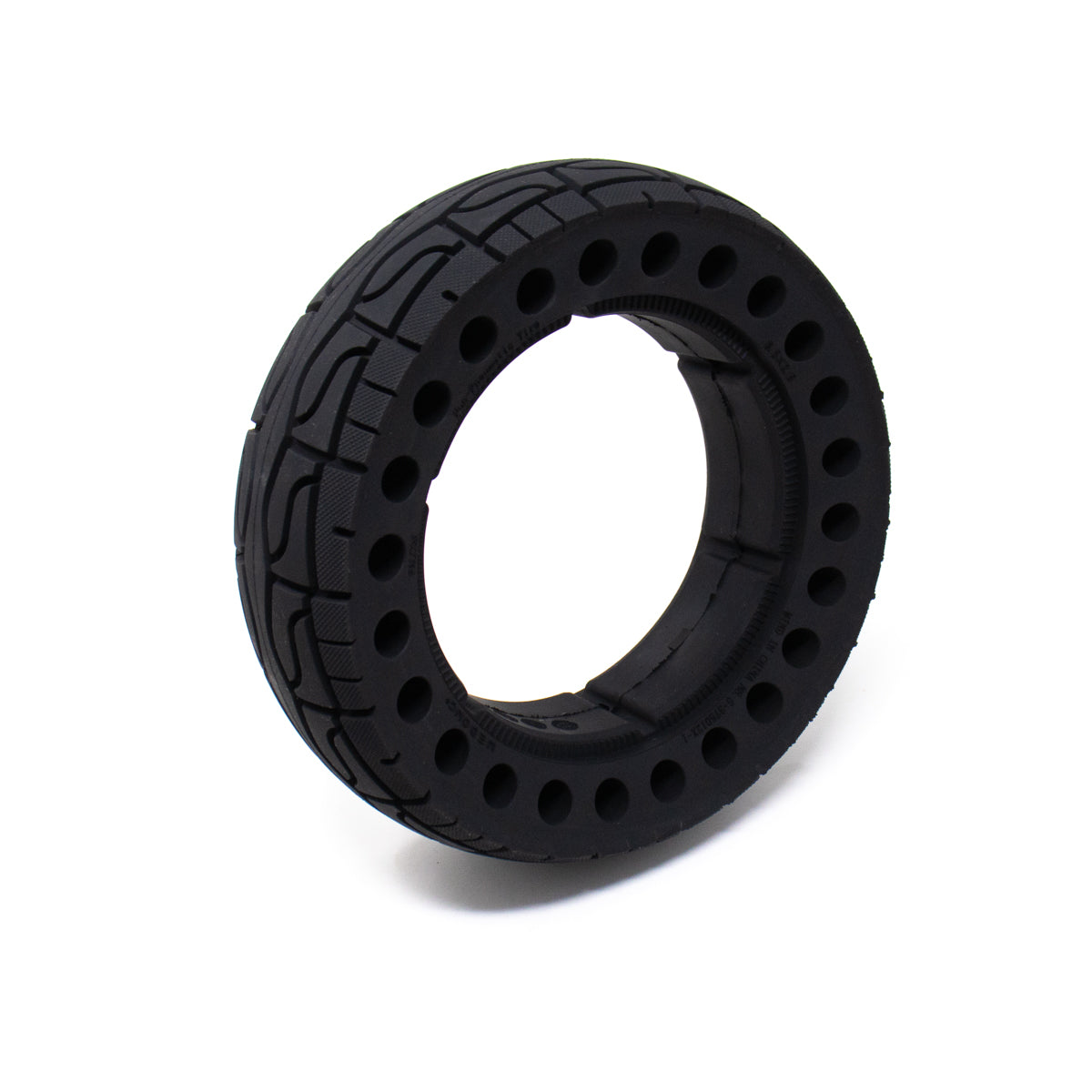 Financing
RIDE NOW, PAY LATER
Choose your financing option:
Shop your favorite stores online or in-store and pay later with Affirm. You'll see us at checkout, or you can request a virtual card in the Affirm app.
Simply select Affrim at checkout to get started.
Click here to learn more about Affirm
SKIP THE LINE
Checkout instantly with Express Checkout:
Pre-fill shipping and payment information using your Apple Pay, Google Pay, PayPal, Shop Pay, or Meta Pay account. Simply select your preferred payment provider at checkout to get started
Bad tire bad Customer Service
Doesn't seat no matter what you do. The tire always feels like it's going to come off while riding and the scooter feels like it's fishtailing in the corner.
I got this because the original tires go flat if you look at them sideways but this thing is unrideable. I have about 34 miles on the scooter but can't use it.
I contacted Rev Rides CS and they basically said I did it wrong and to do it again... but the "install kit" they give you is made of the cheapest metal and bolts ever made, so it's a one time use POS. I went to Fastenal and they gave me better replacement bolts and bearings and nuts, 100% better than the garbage from Rev rides... but no matter what I did or the 2 different bike mechanics did, there's nothing you can do to make it work properly.
So for the past year I've had a scooter sitting in my garage unused.
I bought a Vsett10+ and 9+ for my gf... she can't use hers past the 30 odd miles she got out of it and Revrides have ghosted us.
I brought up the issue on their social media and they just called me a liar in not so many words.
Dismal tire, dismal CS
Hi Rich, I understand you're frustration. We are here to help and called you on 11/15 and again on 11/17 and never heard back from you. We have a service center in California or we could have the motor shipped here for us to install the tire for you. Happy to do either of these free of charge but we never head back from you after your email on 11/14.
Respectfully,
REV Rides
They are very mushy
They feel like they are flat. I'm 65 years old I have a seat on my scooter, which is a vset 9 plus with front and rear Motors I was going 12 to 15 miles an hour with only the rear motor and in low voltage, #1, went around a corner, in my local park that's rated at 25 miles an hour for cars and the back end started wiggling and almost threw me off. It says on the website not for aggressive riding. I was not riding aggressive, the warning needs to state that they feel mushy and slide around on corners at 12 miles an hour or more
Hey Steve, we're sorry you had an issue with your tires. Please follow up with us via email (Service@REVRides.com) for further assistance.
Not an easy install but worth no more flats
Not sure what the deal is with the vsett 9, but flat tire are every 3 to 4 weeks. Took me almost 2 hours to squeeze this hard tire on, but worth it even if speeds and soft ride are impacted. Finally good to go without flats!
The advantages outweigh the disadvantages
IMPORTANT: Make sure that when ordering these solid tires, you ask Rev Rides for the install guide screws, as shown in their video. They are NOT automatically included. Luckily I was able to go my local hardware store to buy some stuff that worked as a plan B. (80mm long M5 screws, nuts, and washers)
The tires themselves have some key advantages and disadvantages:
The good:
-No more flats! The single biggest advantage, especially when you consider all of the time lost and inconvenience that a flat tire provides
-No more constant PSI checks
The bad:
-The tire feels squishy. I am a ~200 pound rider riding on mainly flat concrete and pavement. The tire "feels flat". You can feel and hear the tire when turning. You don't want to ride as aggressive as you normally would, since the handling characteristics will be quite different.
-Weight. Make no mistake about it, the tire is heavy. You will most certainly drain more battery because of it, and carrying your scooter will be that much harder.
-Install is not difficult (no lubrication or heating of tire needed) provided that you have the right hardware and tools. Rev Rides has a nice video on it thats spot on.
-Weight Handling: it seems like this tire is not designed to hold up to a lot of weight. The tire gets quite hot sometimes after a ~9 mile ride, sometimes to the point of giving off a burning rubber smell. They show no deformities or excessive wear after 100 miles, though.
Acceleration is still good (double motors are really nice for quick take offs). Top speed is still the same. Comfort has not noticeably changed (suspension doing its job).
If you're doing great in your stock tires, don't change it. But if you're like me and had 4+ flats in 3 weeks being slimed, proper PSI, and tire liners, + a stock tire needing replacement due to exposed cables on a ~300 mile tire, you'll love the peace of mind and maintenance free aspect of the solid tire.
I run a hybrid stock tire front, solid back. Perfect setup.