Regular price
$0.00
Sale price
$49.99
Unit price
per
Sale
Sold out
More Ways To Pay
This immobilizer security system comes with an alarm and remote control system to turn on/off and disable the electronics of your electric bike and electric scooter. Additionally, it has a motion activated alarm feature which will be activated when the scooter is tampered with or taken away. 
This immobilizer is rated for 48 to 60 volt electronics system.
The immobilizer module can be hidden discreetly inside the deck compartment of the electric scooter so would be thieves will not be able to find it. Does not fit in the Zero 8 or Zero 9. 
Price does not include installation.
Package includes:
1. 2 remote key fobs
2. One alarm
SOME INSTALLATION IS REQUIRED. Soldering is required. User Installation will void vehicle warranties. We can perform installations prior to shipping. Please add this installation to your cart with your order.
Share
View full details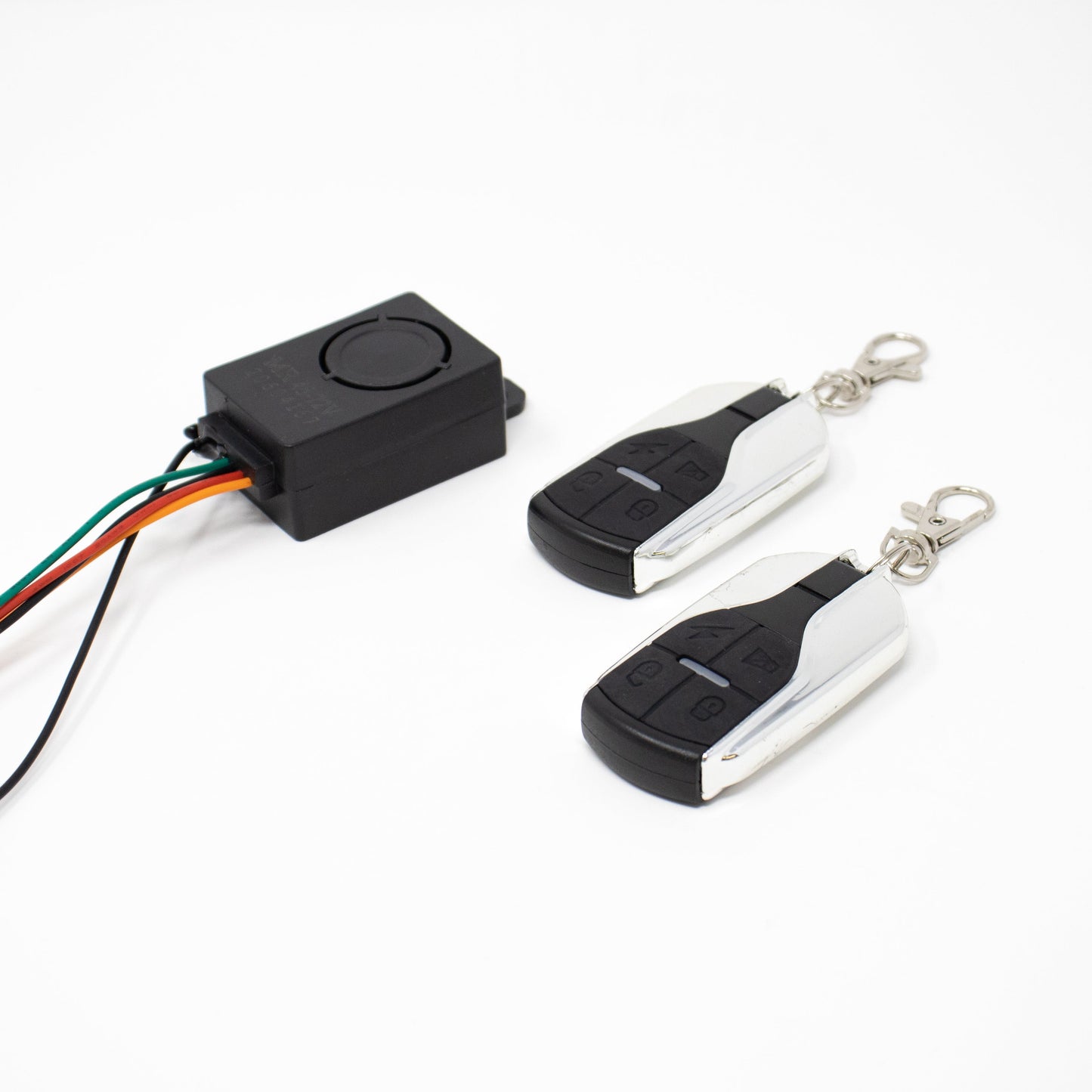 Financing
RIDE NOW, PAY LATER
Choose your financing option:
Shop your favorite stores online or in-store and pay later with Affirm. You'll see us at checkout, or you can request a virtual card in the Affirm app.
Simply select Affrim at checkout to get started.
Click here to learn more about Affirm
SKIP THE LINE
Checkout instantly with Express Checkout:
Pre-fill shipping and payment information using your Apple Pay, Google Pay, PayPal, Shop Pay, or Meta Pay account. Simply select your preferred payment provider at checkout to get started
Works but has Flaw
I have 2 Apollo Explores (Zero 10) the device comes with the wiring harness to plug everything in, go to youtube and find out how to plug it in. I bought 2 of them one for each scooter. I wired everything in perfectly for both, fishing it to where I wanted it was a bit of pain, but I am not holding it against the device. The Scooters are 52v scooter, that is right in the middle of the voltage(48-60) and as mine is a slightly modified zero it should work perfectly. The normal turn the alarm off/on, locator part works perfect. Turning the immobilizer back on works but sometimes it takes a time or two to get that to work, it might just be me. The main issue I have with them is that while I am riding either one of my scooters, when I accelerate hard or use my regen braking, the alarm will make a noise for no reason. It is the same noise that it made when it is first plugged in but it lasts a little longer, so I believe what is happening is the devices are losing power and then are having a brown out while turning back on.
Immobilizer alarm
This thing works really well. I actually was able to install it pretty easily because when I opened up the scooter there was a connector already wait for it. I watched a few YouTube videos of them installing it on other scooters to make sure I got the general idea down since there wasn't one for specifically my scooter. No big deal. figured it out no problem. Performs exactly as it is intended to.
Awesome Anti-Theft Device for any PEV!!
Great Immobilizer Alarm System in which REVRides created a wiring diagram on the fly to successfully install it on an Apollo Pro Scooter.
Always Necessary
Always Necessary …secure to park